When I first developed my "Chase The Milky Way" concept several months ago, I did not know where it would take me. Even though I had several locations chosen, due to some things that have happened in conjunction with this quest, I have made a couple of changes. The first change is that I have added an extra trip. The second is that I have joined forces with Think Tank Photo / MindShift Gear to give away a camera backpack for each trip. It is going to take some work on my part by me, but I am looking at expanding this concept in the future.
For now, though, it is time to chronicle my second trip. This particular trip is perhaps the climax of the entire year. Typically, the climax is near the end of the story, or in this case, it would be the last trip of the year. The reason why this trip is the pinnacle trip of the year is because of my backstory with the primary target location.
TIME TO STEP BACK IN TIME
When I first developed the "Chase The Milky Way," Marble Canyon, Arizona was the one location that I chose that I had to visit to make it a successful trip. There are several reasons why. The first is that on the list of "must go to places" for Milky Way photography, this northern Arizona village does not rank up there. Marble Canyon is known more for serving as a headquarters of sorts for the numerous Colorado River trips that depart from nearby Lee's Ferry. That it is not known for Milky Way photography is somewhat surprising to me, but this is good for me as it's not overrun with people, like other locations in the Southwest.
The second reason why I chose Marble Canyon and Lee's Ferry, in particular, is a lot more personal. So please indulge me for a few minutes while I deep dive this part of the story.
NO STRANGER TO THE LOCATION
I was first introduced to Marble Canyon way back in the early '80s. My grandparents had purchased a retirement property up to the road from Marble Canyon. They were in the middle of changing their permanent address to this property when I made my annual summer trip out to spend time with them. The property butted up against the backdrop of Vermilion Cliffs. The next few weeks were spent hiking Badger Canyon and just soaking in the area. I was introduced to Lee's Ferry, the history of the Lonely Dell Ranch, and The Colorado River. The last few days of this introductory trip were spent on the water of Lake Powell.
Over the years, I would return each summer. Some time was spent helping my grandfather turn the single-wide mobile home into a fit and proper retirement home. We hauled rock, hung sheetrock and other assorted tasks. By the time the home was finished, it was twice as wide, and if one did not know the history of the house, they would never be able to tell it started life as a mobile home. Those summers were also spent going upriver from Lee's Ferry on motorboats to fish the trophy trout waters. To this day, I believe my Colorado River fishing record still stands at 0.
A SUMMER OF BLISS
The summer of '87 would prove to cement a part of my legacy with Marble Canyon. My grandmother, who worked in the office of the Marble Canyon Lodge, secured me a job at the gas station. That idea might sound a little odd, but full-service gas stations are odd now. That is exactly what this gas station was – two pumps, one Unleaded and one Regular. No diesel. The average price of gas in the country in 1987 was $ 0.90. Since Marble Canyon is so far out in the middle of nowhere, I would like to say that I was pumping gas for just over a dollar that summer.
Although my grandparents had satellite TV that summer, there was not a whole lot to watch. My off time was spent reading books and the weekly delivery of Newsweek magazine. From time to time, my grandfather's best friend Dave would come up. The three of us would head upriver in Dave's Bass Tracker boat and just spend the day floating up and down. To this day, I have never seen Horseshoe Bend from the top, but I have seen it numerous times while on the water while going up and down the river.
My time spent in Marble Canyon started to shrink after that summer. Just a couple of years later, I was out of high school and off to the Army I went. I returned a few times over the years, but my granddad's medical issues had taken over his life. He passed away in 1998, and just a short couple of years later, cancer would force my grandmother to leave the house that they had built together.
PHOTOGRAPHY IS A PERSONAL JOURNEY
In short, by choosing Marble Canyon as a destination for chasing the Milky Way; I was going to embark on a personal journey to a place that has special meaning to me. Yet, I did not stop with just picking a location and going. No, I was going to make it a point that I was going to go for one shot and one shot only. Yes, I would spend an evening shooting throughout the area, but there was going to be one shot that would define the trip, define my journey and define a part of what I want "Chase The Milky Way" will stand for.
Several years ago, as I started my journey into Milky Way photography, Marble Canyon popped up in my head. I was familiar with the area, and I knew the skies would be great. At the time though the trip and the shot I was thinking of was just a pipe dream. A few months ago, when I started to form this concept, Marble Canyon, and this particular shot quickly rose to the top spot of "must do."
THE PLAN
At Lee's Ferry, there are a couple of abandoned rock buildings. One of these buildings, although the walls are partially gone, has several glassless, wood window frames still intact. In my mind, I knew the shot was possible, but I started using Photopills to do hard research. I needed to know if on paper if I could capture the Milky Way through one of these windows and when I would have to travel to Marble Canyon to attempt it.
Sounds easy, right. Well yeah, it was pretty easy to plan out. Using PhotoPills, I was able to see that the canyon wall on the other side of the river would not obstruct my view of the Milky Way. Time of year was not that much of an issue in Milky Way positioning. I could pretty much go at any time in the season I wanted, so I decided that I wanted to get the shot as soon as possible. I did not want to drive across the desert when temps would be well north of 100 degrees.
TOO EXTREME?
Since one of the ideas behind this was that my target location would be within a day's drive of my house, a 600-mile road trip might be stretching that idea just a bit. The biggest wild card in this whole craziness was the weather. To be safe, I picked a week on my calendar that would allow me to have an extra day as a precaution. It would be a disaster if I drove that far and came home without any shots!
About a week out from my target departure date, I started hitting up the Global Forecast System (GFS) forecast models on the College Of DuPage Meteorology website. I was pretty pleased with what I was seeing, which was good because, by this time, I had lost my extra day. On top of that, instead of going to a location that was closer to home on my second night; I ended up going a little further away.
TIME TO HIT THE ROAD
I got up early in the morning of the 3rd and headed east. Forecast models were solid, but my lodging plans had taken a severe hit. I had failed to take into account that it was the start of summer and there were no vacancies at Marble Canyon Lodge. There is another motel just down the road, and they were full too. After I dropped off the Kaibab into the valley surrounded by Vermilion Cliffs, I stopped at another motel down the road. They had a couple of rooms available, but I did not want to pay their asking price.
About 10 hours after leaving my driveway, I arrived in Marble Canyon and immediately started scouting locations and doing the tourist thing. I drove around the area, down to Lee's Ferry and Navajo Bridge. Along with the window shot, I had several other shots that I had been thinking of and needed to see if I was able to get them.
SCOUTING THE LOCATIONS
I had planned on trying to shoot at Lonely Dell Ranch, but the road to the ranch was closed due to construction and did not want a hike in during the night. I visited Navajo Bridge and decided that if they left the gates open at night, I would try some shots there. There were several other locations that I had identified as possibilities.
I had really wanted to check out the trading post and restaurant. I killed many a cheeseburger back in my gas pumping days. My visit though was somewhat bittersweet. The original building had been built in 1926 and to say that it had character and ambiance would be an understatement. That building burned down in 2013 and was rebuilt. It was a surreal experience, to say the least. Although I did not get a cheeseburger, the chicken strip dinner that I ate was well worth it.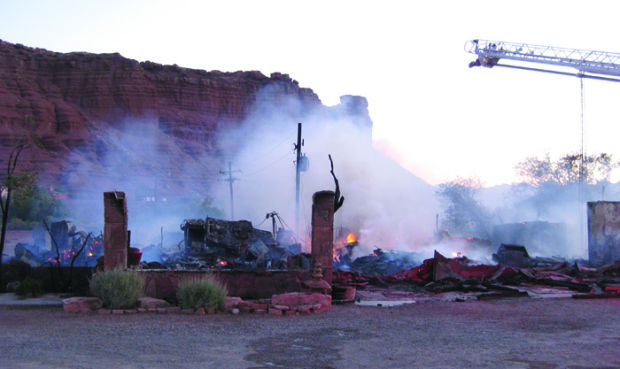 WEATHER PHOTOGRAPHY SPINS MY WHEELS
After supper, it was time for the games to begin. Even though the monsoon season has not officially started, I ended up getting to do some early evening weather photography. Once I was done with that, I laid claim to the last camp spot left at the campground down the road from Lee's Ferry. I chilled out for a little while until darkness descended. The clouds had left, and it was time to get to work. Since I had some time before I could attempt my window shot, I headed down to Navajo Bridge, and sure enough, the gate was open, so I pulled into a parking spot and began shooting.
I amused myself by shooting here. The new bridge was built back in the '90s, and here I was, walking out on the bridge that was finished almost 70 years prior. I had thought about possibly walking out on the new bridge to shoot since there is a shoulder, but I did not need to do that. And yes, I had driven across the old bridge before it was shut down to vehicle traffic.
NIGHTTIME GOODNESS
I got so wrapped up with shooting that I tried to blow my window at the shot I really wanted. The time came for me to get to the buildings. I was actually a few minutes early, which allowed me to clear out the audience of Black Widow spiders that were hanging out. After grabbing my Milky Way shots, I then used one of my Neewer CN-160 LED panels to illuminate the rock wall so I could blend the shots together.
I then moved "outside" the building and tried to do a double window shot, but was unsuccessful. I did get another photo that pleased me. Sitting on the boat ramp were several rafts awaiting for departure downriver the next day. By this time, the Milky Way core was high up, so I set up my gear up on the concrete. The image I came away with is something that I have not done before. As of this writing, I have already sold a large print of this particular shot.
AN ABUNDANCE OF COMPOSITIONS
I then went back out to Balanced Rock. I shot here for a while, but I was suffering some serious brain fade, plus it was getting late; so I called it a night and headed back to the campground.
When I first thought up this crazy idea, as I mentioned before with Day 2, the location would be closer to home than the Day 1 location. In the case of this trip, that was the plan. I had been looking at two different Arizona locations, one right outside of Flagstaff and the North Rim of the Grand Canyon. By the time I had decided on this particular trip, I was set on heading to the North Rim for the second night. The North Rim is more intimate than the South Rim, and I felt that it was a perfect second-night location.
PLOT TWIST – LET'S GO TO ESCALANTE
The change came just about a week before departure. I was talking to Aaron King, owner/operator and the all-around great guy here at MWP, and managing editor Kirk Keyes. At some point, it was brought up that Aaron would be in Escalante, Utah, leading a Photog Adventures workshop. Aaron and Kirk turned me onto Cottonwood Canyon Road, a beautiful BLM dirt road that cuts across the Grand Staircase – Escalante National Monument. It would cut almost 60 miles off the total distance compared to the blacktop route to Escalante. I decided that I would meet up with Aaron and his workshop after leaving Marble Canyon. I have already been to the North Rim of the Grand Canyon, and I like seeing new landscapes.
It had been twenty years since I had been to Page, and the changes were amazing. The number of hotels, gas stations, and fast food establishments was astounding. Granted, I can see why they were along the highway compared to when I first laid eyes upon open land over 30 years ago. I also went by the circus that is Horseshoe Bend. After stopping for gas, it was off to the wilds of southern Utah. Before I left California, I laid out a route in GAIA GPS, so I knew where I had to go. Although the dirt road portion of this trip was just less than 50 miles, I took my sweet time and enjoyed the views.
THERE WILL BE NO REST!
I finally arrived in Escalante and secured a room at the Prospector Inn. After a quick nap, I met up with Aaron and Will for lunch. From there, we went down to the Canyon Country Lodge, where Aaron conducted some classroom time with his workshop. Once the session was over, we grabbed our gear, gas, and snacks and headed out to Dance Hall Rock.
I ended up going psycho tourist sunset photographer at Dance Hall Rock. Clouds rolled in at sunset, and I needed some landscape images. Aaron gave us a tour of the area, and the location offers photographers.
STORMS, AGAIN
Unfortunately, not long after darkness descended, the all too familiar flash of lightning lit up the sky and got my weather photography blood up in arms. We waited around for a couple of hours waiting for a break in the clouds so we could work our magic at Dance Hall Rock, but it was not to be.
It was finally decided that we would go to Devil's Garden. Aaron and his workshop had already been there. Judging by what little I was able to see while there, the number of compositions are almost endless. We did not plan on spending much time there, but there was a couple from Slovenia who was new to Milky Way photography, so Aaron spent a few minutes helping them out.
It was way early in the morning when we returned to the motel. I grabbed a couple of hours of sleep; then it was back on the road. I used GAIA to route me through the mountains just east of Cedar City. That route had me go past meadows flooded with water and fields of deep snow still on the ground. A few hours later, I would roll past the World's Tallest Thermometer in Baker, California. It was showing 102 degrees – definitely a contrast in environments.
TIME TO HEAD HOME
600-mile road trips might seem a little extreme when it comes to "a road trip within a day's drive of the house." This trip was somewhat personal to me. I have three more trips to make. The August trip will once again be a 600-mile monster. The other two though will be somewhat closer. In fact, one trip might just be a one-day thing.
One of my goals behind "Chase The Milky Way" is to inspire people to get outside. I have heard numerous people say they never have seen the Milky Way. I want to inspire people to take a pause and create a shot that defines who they are. Too many times we get wrapped up and start shooting without planning the composition, or choose something simple. I am just as guilty as everyone else.
NOT PERFECT, BUT GOOD ENOUGH
This particular shot allowed me to really think things out. In other words, I put more work into this particular shot than most of my work. Did it turn out 100% as I envisioned? No. I wished I had realized that I had the bottom of the window frame out of focus. Am I going to throw away the shot? Not by a long shot. I learned a lot just from this shot and will go forward and do better.
Lastly, I would like to thank MindShift and AdoramaPix. MindShift has been gracious to donate four backpack from their BackLight series for us to give away during "Chase The Milky Way." Jeff LaSante was our first winner. We still have three bags to give away. AdoramaPix jumped on board and allowed me to take over their Instagram account on Day 1. I am sure a metal print from there will be in my possession soon.
Please stay tuned as I have three more trips to make and three more bags to giveaway.
GEAR USED
Nikon 750
Tokina 16-28 f/2.8
Vanguard Tripod
MindShift FirstLight 40L Bag